With our products we make a decisive contribution to the continuous improvement of industrial production and operational efficiency – for the Industry 4.0 and the Industrial Internet of Things (IIOT) sector, we at GEYER Electronic offer a wide range of precise, high-quality oscillators and quartz crystals as well as robust, high-performance resonators.
Our components for IIOT – reliable, even under extreme conditions
Our crystals, oscillators and resonators are characterized by high reliability under extreme conditions. Naturally in the industrial temperature range from -40 °C to +85 °C, but beyond that also for applications up to +125 °C.
We manufacture quartz products for all types of industrial Ethernet communication BUS systems: CANOpen, Profibus, Interbus, EEBUS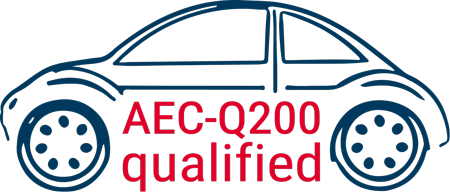 Application examples from practice
Industrial camera for use in robotics
Challenges
Lowest possible tolerance for industrial applications
Solution
State-of-the-art oscillator of the GEYER series KXO-V93T (1.6 | 1.2 | 0.6 mm): 19.20 MHz

Tolerance of +/-30 ppm over the range -40 °C to +85 °C

Maximum current consumption: from 5 mA
Measuring device for mobile machines for measuring distance, movement, area and speed
Challenges
Precise switching with data transmission via USB interface

Narrow tolerances due to the frequency band

Low series resistance to enable best possible transient response
Solution
Quartz crystal of the GEYER KX-7T series (3.2 | 2.5 | 0.8 mm): 16 MHz/8 pF

10 ppm frequency tolerance at +25 °C and 25 ppm tolerance over industrial temperature range

60 Ohm series resistance
AS Interface Master for optical proximity sensor for system clock and for measurement signal generation
Challenges
Smallest possible housing for the specified frequency of 8.0 MHz

Most accurate tolerances possible in the temperature range of up to +125 °C
Solution
Quartz crystal of the GEYER KX-7F series (3.2 | 2.5 | 0.8 mm): 8 MHz/8 pF

Tolerances of only 50ppm in a wide temperature range up to +125 °C