If you want to drive a car without electronics today, you have to get a classic car. Modern cars cannot do without control and monitoring electronics. Electronics are revolutionizing the automotive sector and are not limited to the car, but also extend to parking, traffic control systems, transport logistics and car sharing. Electric drives and autonomous driving are trends that point to the future and require ever new product solutions – from us, too.
Automotive moves us!
The automotive industry is the artery of the German economy and one of the most important sectors worldwide. In this high-tech market, which is focused on maximum safety, the reliability of the components used is a basic requirement. Our crystals and oscillators offer the highest reliability in terms of temperature and humidity resistance, EMC compatibility and solderability. Many of our components are AEC-Q200 qualified and can be found in the store.
AEC-Q200 components from GEYER Electronic
Particularly reliable AEC-Q200 qualified components are available from GEYER Electronic in a wide range of sizes and frequencies.
These oscillators and quartz crystals can be used not only in the automotive sector, but also in many other demanding industrial applications (e.g. IoT) where high reliability is a top priority.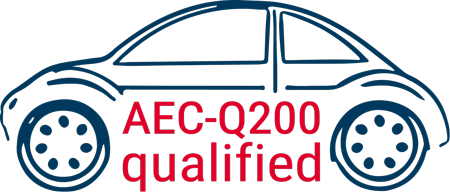 GEYER components are designed for use in temperature ranges up to 150 °C and accuracy up to 30 ppm, helping to keep applications stable.
GEYER Electronic components can be found, among others, in:
Dashboards

Gear shifts

Air conditioners

Locking systems

Keyless Go

Lighting controls
Application examples from practice
Wireless control unit for seat positioning and seat belt monitoring
Challenges
High mechanical stress due to shock and vibration from driving

Bluetooth monitoring, connection to the control unit
Solution
Special internal structure to protect against shock and vibration

Quartz crystal from the GEYER KX-5T series (2.0 | 1.6 | 0.45 mm): 32.0 MHz/10 pF

Tuning fork crystal from the GEYER KX-327 RT series (2.0 | 1.2 | 0.6 mm): 32.768 kHz/12.5 pF

AEC-Q200 qualified
Control unit for vehicle automatic gearshift
Challenges
Shock and vibration resistance

Reliability over a wide temperature range
Solution
Special internal structure to protect against shock and vibration

Quartz crystal of the GEYER KX-7F series (3.2 | 2.5 | 0.8 mm): 8 MHz/8 pF

Tolerances as low as 50 ppm over a wide temperature range up to +125 °C

AEC-Q200 qualified